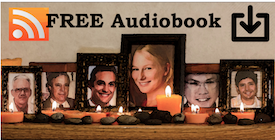 Looking for Help on Prevention of Physician Suicide
 Yup. You read that title correctly. Go to this link, and you can hear Dr. Pamela Wible read from her own book that gives an inside view of her own perspective on physician suicide. A perspective that has grown out of her own experiences and the self-inflicted deaths of many physicians close to her.
We've talked about her work before. BUT. Actually listening to her talk about it brings us up close and personal to the message she works so hard to convey.
Bottom Line. Damn it!  I've written about this once too often to not do anything about it. I just wrote to Pamela, volunteering my services in any way she thinks someone with my background can help her cause. I suggested, for example, that we work together to craft a training class for Pharmaceutical Sales Representatives. As I am conceiving of it, the class would sensitize PSR's to the risk of physician burnout and suicide. At the least, it would train them to avoid making matters worse through their actions. At best, Reps could become part of the solution, through providing access to resources like Pamela's book, webinars, retreats, etc. 
 Update. Within moments, Dr. Wible took me up on my offer. Now I want you to jump in and let me know how you and your company can help here.  've never asked any of my followers to do anything but follow. BUT. This is really important! Drop me a line at rbv@rbv3.com and let me know what you can bring to this effort. For example, we are looking for opportunities and sponsorship for the screening of http://donoharmfilm.com
Thanks in advance!