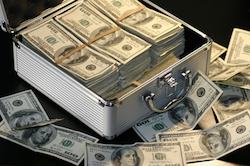 Here is an interesting idea. If a doctor has enough passive income to take the financial pressure off of practicing medicine, he can be much happier in practice. And much less likely to burn out. All by treating the practice of medicine as a hobby to be pursued while money is being made by the physician's pursuit of real estate ventures and other sources of "passive income."
Don't just read the article. Take a look at the advertisements and other "stuff" strewn around the pages. What you will see is that there seems to be a growing number of doctors pursuing some version of this strategy. From paying off medical school debts to retiring at a reasonable age, a doctor freeing herself up from financial worries attached to the practice of medicine has got to cast things in a better light.
Bottom Line. I think this actually makes a lot of sense. Think about it!