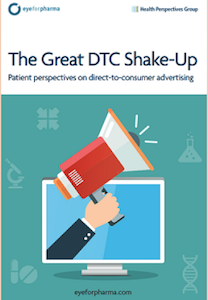 Check this out.  What you will see here is an opportunity. First, subscribe to a freemium on demand subscription to eyeforpharma and download a white paper on patients' attitudes toward DTC. Second, you can slide to another URL to learn about the 2018 eyeforpharma conference in Philadelphia.
An examination of the white paper will hopefully get you thinking about what I still consider to be one of the great conundrums in our field. The document starts out by reminding us that DTC has been around for a long time. Decades, actually. It goes on to observe that pharmaceutical company investment in DTC continues to increase. BUT. In a recently completed survey, patients report that they are decreasingly likely to remember pharmaceutical products from advertisements, and increasingly likely to view DTC negatively. Here's the deal. When patients want drug information, real information, they now go to digital sources. TV advertisements for drugs simply tell the patient about the drug and the indication, and then go on to list numerous side effects. Not surprisingly, patients begrudge the regulatory impact that constrains this process. Equally unsurprising are patients' desires to hear from other patients who have the same condition and/or are using a drug of potential interest.
Against this backdrop, the conference URL shows a really impressive lineup of pharma executives ready to come and to educate the 700 people who will be in attendance in 2018 about new ways of engaging the patient.
Bottom Line. HOPEFULLY, at one of these conferences the cognoscenti will begin to talk the industry OUT OF pouring more money every year into DTC advertising of pharmaceutical products. This channel has clearly hit a point of diminishing returns, and needs to be rethought.
 But with what?