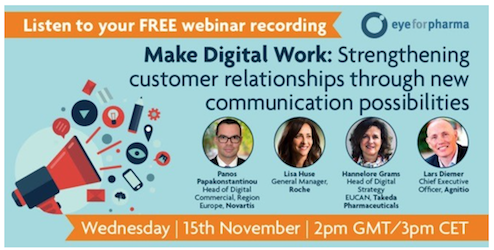 My digital media guru has assured me that one of the worst things I can do to attract daily readership for my blogs is to use question marks in the title. BUT. I can't help myself. The more I sit back and study our industry, the more questions I have about how things really work.
Take for example this webinar. It is going to tell us how to "Make Digital Work," with "virtual engagement" leading to strengthened "customer relationships."
So, I have two fundamental questions about how all of this happens. More specifically, I want to know what "engagement" looks like when it is accomplished virtually. How do we measure it? What does it buy us?
Relatedly, I need to know what we mean by "customer relationships." How do we measure them? In what situations are they important? What do they buy us?
Bottom Line. Yeah, I know.  It has always been taken as a given that having a good relationship with your customer is really important. My guess is that this is sometimes true, and sometimes not. In any event, I have signed up for this webinar and will listen carefully. While I believe that the speakers will do a great job on the "how to" part of all of this, I will be listening most attentively to the discussion of "why?" and "so what?"
Care to join me?