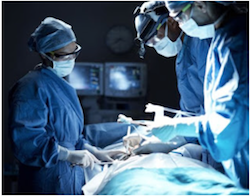 Here is another iteration of an issue that has popped up before. More specifically, we have seen some hospitals protest that their compensation shouldn't be docked due to high readmission rates, since they see sicker patients. Etc. But in this blog post, we see the issue reappearing in the guise of a question as to whether a surgeon's "individual" procedure outcomes should be reported to the public.
This is a classic damned if you do, damned if you don't situation. I would think that if I were pondering having a surgical procedure performed on my body, I would very much like to have access to surgical outcomes data, yes at the level of the individual surgeon, that have already been compiled. Why not?
BUT. If surgeons decide not to perform certain procedures on certain patients solely because the patients' compromised status might lead to bad outcomes and bad PR, that seems unfortunate to put it mildly.
Bottom Line. Read the article and ponder what should be done here if you were responsible for making this important decision. 
Not an easy one!