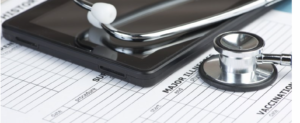 Are you picturing little cherubs in white, wings aflutter, helping doctors care for the afflicted? Get over it. It's 2017. Physicians Angels are employees of a company called, you guessed it, Physicians Angels (There is no apostrophe in this company's name!?!?). They are medical scribes who provide doctors with heavenly assistance in keeping up with paperwork. Go here to get an update on medical scribes.
What will you learn? You will learn that there are growing numbers of scribes working in the U.S. That providers are growing in their appreciation of the role. That there are several companies that have cropped up to provide medical scribes. AND. That there is, at present, no standardized protocol for the training of these increasingly important professionals.
Bottom Line. Yup. There are important new roles developing in the U.S. healthcare marketplace. Keep your eyes on the medical scribe role as it emerges, and on other newly emerging roles as well!