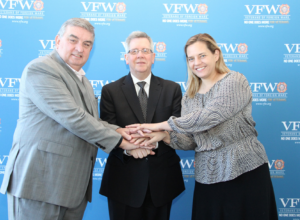 Who is joining forces in the photo shown above? Go here and you will discover that the VA, the VFW and Walgreens are joining forces to better serve the mental health needs of veterans. I sense a win-win-win here. Given its well-publicized service drops, the VA can certainly use a PR boost. I am guessing that the VFW, which has largely fallen off the radar, can use a little consciousness raising. And Walgreens, that has announced its intent to establish a position in what might be referred to as "retail psychiatry," certainly has a lot to be gained by reducing the stigma attached to mental health problems.
Bottom Line. Will the whole be greater than the sum of the parts here? Hopefully! I have said before, and will say again here, that I believe that rational partnerships are important for the future of healthcare. Sure, many announced partnerships are simply fluff and go nowhere. Others wind up being tremendous successes. The difference? The realization that in order for partnerships to really work, they must be rationally conceived and carefully nurtured!
 We will see if that happens in this case. I hope so!